Dear Members,

Following the UK Parliament's vote in favour of EU withdrawal, and after the publication of a Brexit White Paper which sets out Theresa May's plans for Brexit, negotiations could begin very soon. Thus, the Chamber is launching a Brexit Forum, chaired by Angela Hepworth, Corporate Policy and Regulation Director at EDF Energy and Neil Sherlock, Head of Reputational Strategy at PwC, to provide a setting for members to share ideas and discuss the practical implications of Brexit.

Do not miss our Member-to-Member Cocktail and Exhibition next week (9 March). This year's edition is being hosted at a fresh new venue in trendy east London, at the fashionable Ligne Roset Showroom. Over refreshments and canapés, participants will be able to network, discover their fellow members and ultimately test their luck to win exceptional prizes such as two Ligne Roset lamps or a bread-making masterclass for two at PAUL, among others. The event will also launch our Member Offers for 2017: a great way to find new partners and save money!
More than 100 participants and 15 exhibitors have already registered, so if you haven't yet done so, I would strongly encourage you to book your ticket or a stand to showcase your products and services to your fellow members.
Finally, we wish to congratulate Frenger International on winning the 2017 Intercultural Trophy, sponsored by AXA, last Thursday.

Best regards,
Florence Gomez,
Managing Director



The full list of events can be found in the right-hand column
9 March, 18.00-20.30
At Ligne Roset City
Sponsored by Ligne Roset
A not-to-be-missed event
Cost: £40+VAT per person; £60+VAT - Special price for 2
Book online

15 March, 18.00-20.00
At Pierre Marcolini Marylebone
Discover Pierre Marcolini's exceptional chocolates, sweet treats and macarons.
Cost: £20+VAT per person
Book online


Brexit white paper: key points explained
All you need to know about the government's outline for how the UK plans to leave the EU.
The Guardian
EU citizens in the UK could be left in legal limbo
The Home Office has neither the information nor the systems to say who can stay, Brussels fears.
The Guardian

FTSE 100 struggles but pound edges higher amid growing concerns about political stability in Europe
Even though Germany overtook the UK to become the fastest growing major advanced economy in 2016, the pound is rising.
The Telegraph

Applications for the Franco-British Young Leaders programme are open until 3 Mars
Each year, 30 selected French and British individuals (aged under 40) representing all sectors (government, business, defence, academia, culture, non-profit...) join a transformational network accessing areas of excellence on both sides of the Channel and are encouraged to implement learning into their practice.
The programme aims to deepen Franco-British understanding and collaboration.
To download the full programme click here. To apply click here.

BACK TO THE TOP

This heading is yours!
Please send your news to Marielle Fraize. We will choose a selection of news to publish.

BACK TO THE TOP

three corporate members

NOVELTYGROUP
Expert and specialist for the event industry
Represented by Marc Wegscheider
Director of Sales
+44(0) 78 2581 3717
Novelty Group UK is a subsidiary of NOVELTY GROUP, one of the foremost specialist in sound/lightning/stage construction/electricity distribution/video and technical venue management.

Region Hauts de France


International business development
Represented by Virginie Blida Director
+33(0) 3 59 56 22 362
Region Hauts de France supports British and international companies to set up and grow their business in northern France and to get access to the European Union.
Signia Wealth


Private investment management firm
Represented by Philippe Pollet,
Senior Advisor
+44(0) 20 7298 6091
Signia is an independent investment management firm specializing in global portfolio management for families and institutions.
five Active members
Augusta Ventures
Third-party commercial litigation funding
Represented by Yves Le Goff, Managing Director
+44(0) 20 3510 2017







French Radio London features
Sébastien Goldenberg, CEO & Co-Founder of TheHouseShop.com is interviewed by French Radio London (in French).
Listen
LATEST ISSUE


22 March | 19.00-22.30
Annual Gala Dinner 2017 - SOLD OUT
At the Landmark Hotel
Guest speaker: Sadiq Khan, Mayor of London
Gold sponsors: Ardian, HSBC, Veolia
Silver sponsors: AccorHotels, Bouygues, Devialet, EDF Energy, Groupe Renault
5 May | 8.00-10.00
Breakfast with Tanuja Randery, Zone President UK & Ireland, Schneider Electric
At the Berkeley Hotel
Sponsored by PAUL UK
Cost: £40+VAT per person;
£60+VAT - Special price for 2

11 May | 18.00-20.00
RENDEZ-VOUS CHEZ MAILLE
Cost: £20+VAT per person

22 June | 18.30-21.00
ANNUAL GENERAL MEETING
Free of charge - All members are welcome

11 July | 18.30-21.00
SUMMER CHAMPAGNE RECEPTION
At Hurlingham Club
Cost: £50+VAT per person; £80+VAT - Special Price for 2



25 April | 08.30-10.00
Theme: How to find the best board Members and Advisors for Startup Success



2 March | HR Forum
08.30-10.00
Theme: Employee commitment and well-being at work.
Speaker: Sally Hemming, Associate Director, ER & Talent, EY

14 March | Climate Change Forum
10.00-12.00
Theme: How is the radical evolution in the international political landscape likely to impact climate change policies.
Speaker: Dr Charles Donovan, Director, Centre for Climate Finance and Investment, Imperial College Business School
23 March | Digital Transformation & Innovation Forum
09.00 - 11.00
Theme: Creating value in our 'Big Brother' data world
Speaker: Richard Hepworth, Director of Digital Transformation, PwC and second speaker to be confirmed
29 March | Brexit Forum
08.30-10.30
Forum launch and brainstorming session.
Aimed at: CEOs, Heads of Brexit Task Forces, Head of Strategy, Heads of Corporate Affairs in charge of Brexit
19 April | Finance Forum
08.30-10.00
Theme: Successful integrations: mergers & acquisitions

Register your interest with Ophelie Martinel 0207 092 6634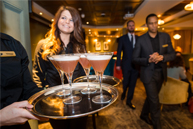 Rendez-vous chez The Hippodrome Casino
9 February 2017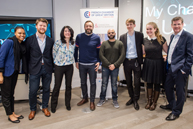 Club@ Deloitte Digital
30 January 2017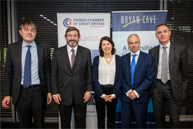 Seminar sponsored by
Bryan Cave
26 January 2017